Reference:
Description:
Jb

105
A box in typical Regency form, veneered in rosewood and inlaid with a marquetry of brass and darker rosewood. There are original carrying handles in the form of lion masks on the two sides. This is another Regency feature derived from ancient classical forms. The early nineteenth century was a time of great archaeological discovery which was reflected in the aesthetic trends of the time.

Condition: Good.

Size: 9.25" x 7.25", 4.8" tall. 23.6cm x 19.8cm, 12cm tall (on feet).

Circa : 1825.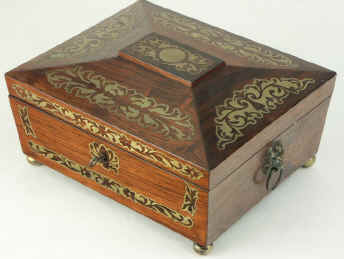 The interior is lined in silk, leather and paper, in typical Regency pink. The silk on the lift out tray is a later replacement, although a very good colour match to the original back silk.
The back cover flops down to reveal a writing surface and envelope.
( See chapter 4. This piece is figure 425 in our book Antique Boxes, Tea Caddies, and Society -- 1700--1880, ISBN: 0764316885 Antigone Clarke & Joseph O'Kelly, A Schiffer Book for collectors).