ANTIQUE BOXES
at the Sign of the Hygra
2 Middleton Road
London E8 4BL
Tel: 00 44 (0)20 7254 7074
email: boxes@hygra.com
Antique Boxes in English Society
1760 -1900
by ANTIGONE
Writing Boxes
News | Buying | Contact us | Online History of boxes | The Schiffer Book | Advanced Search
Fine Betjemann Writing Slope With Neo Gothic mounts inlaid with pietra dura Circa 1880
A box made by the firm of Betjemann's. Betjemann's were in the forefront of innovation and quality, using machinery and skill in an effort to achieve very smooth finishes and stable structures. This box epitomizes the nineteenth century new fashion for the neo-gothic.

The brass shapes are cut with precision to achieve a certain depth. They are also gilded.

The inserts are panels of pietra dura. Black slate is inlaid with marble in different colors in delicate designs of flowers. Inside, the slope is lined in gold embossed blue velvet which compliments the design. The interior facings are in coromandel. The maker's mark is engraved on the lock plate and the retailer's name is on a small strip of brass under the flap. Last quarter 19th century.

14" wide.
| | |
| --- | --- |
| | The box is veneered on the outside with thick saw-cut walnut. The figure is enhanced during. Inside the facings are coromandel. The writing tablet is gold embossed velvet. |
| | |
| --- | --- |
| J a(nd) T Forgil. 93 Buchanan St. Glasgow | |
| | |
| --- | --- |
| | The brass mounts are gilded. The inserts are panels of pietra dura. Black slate is inlaid with marble in different colors in delicate designs of flowers. |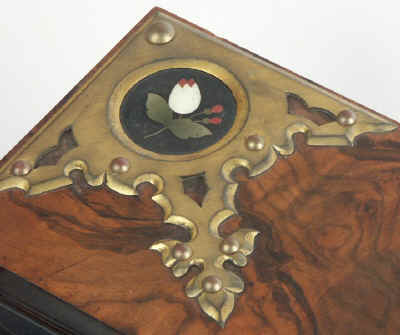 News | Buying | Contact us | Online History of boxes | The Schiffer Book | Advanced Search