Simpler boxes of rosewood with mother of pearl circles and metal stringing were beginning to appear by the 1820s. This style continued to be made for a few decades, the veneers becoming thinner as the century progressed.
During the early part of the 19th century, vandyke and cube Tunbridge Ware, mahogany, yew, or fruitwood boxes with marquetry, stringing, crossbanding, or in combinations of woods were also made. These boxes are often unique, idiosyncratic and delightful with a character all of their own and very sought after by serious collectors.
Characteristics of early 19th century writing boxes:
1. Thick veneers of mahogany, kingwood, rosewood, occasionally yew or fruitwoods on mahogany base.

2. Brass inlay, fine lines or floral swags.

3. Fine mother of pearl inlay.

4. Marquetry of naturalistic, neo classical or geometric designs.
The sloping writing boxes dating from this period changed very little in style from the late 18th century, although their arrangement was subtly modified so as to give more room for writing. The introduction of a narrow flap at the back part of the top which opened to reveal the pen and inkwell section, enabled the main flap to open downwards giving a larger writing surface.
As in the writing boxes, inlaid brass, mother of pearl and marquetry were used for decoration. In addition very fine examples of Chinnoiserie, Penwork and Tunbridge Ware slopes date from this period, although these are now few and far between.
Another kind of writing slope, which made its appearance in England at about this time, was in the Boulle style, in tortoiseshell and brass. These were mostly imported from France. The shapes of these slopes are elaborate versions of the wooden slopes. The back part is higher and often curved. The interiors are of polished rosewood, or ebonized wood. The flaps are velvet covered.
Papier Mâchè slopes had only one flap opening downwards allowing for the continuity and integrity of their fine decoration. Few rare and very beautiful Anglo Indian boxes in both shapes date from this period.
he steel pen nib, which was first patented by Gillott in 1831, made the use of quills or rigid metal pens unnecessary. Writing became simpler. The Penny Post in 1840 enabled the sender to pay for letters and as a result letters quadrupled in the following decade. They were followed by postcards, Christmas cards, Greeting cards and Valentines.
Request current list of available writing boxes.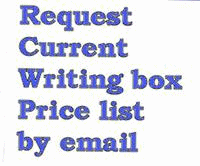 | | |
| --- | --- |
| | Writing box veneered in figured walnut with rounded brass surround and fine brass stringing. The brass acts both ad decoration and protection. The interior facings are veneered in rosewood. The writing surface is covered in the original gold embossed leather. There are the usual compartments for papers under the writing surface. The inkwells are reproduction. Under the pen-tray there is a nest of secret drawers hidden behind a sprung panel. The panel is released by pulling up one of the divisions next to the inkwell. |
| | |
| --- | --- |
| | Rosewood writing box with fluid inlay in pewter depicting floral motifs. The box is labeled "Turnbull's Exchange, 389 High St. Cheltenham." The box opens to a sloping velvet covered writing surface with compartments for ink and pens. There are places for storing paper beneath. |
| | |
| --- | --- |
| | WB150: Antique Regency highly figured rosewood writing box brass accents and countersunk carrying handles opening to an embossed leather (replacement) writing surface, compartments for writing instruments and paper and having a nest of secret drawers, and a working lock and key, Circa 1820. |
| | |
| --- | --- |
| | WB165: Antique figured rosewood writing box with rounded edges, and countersunk brass carrying handles, inlaid to the top and front with fine inlays of mother of pearl and white metal (pewter) depicting stylized curved foliage, opening to an embossed velvet writing surface and compartments for writing implements and paper. The box also has an unusual sprung secret drawer hidden under the pen-tray. Circa 1840. |
| | |
| --- | --- |
| | A writing slope of c1810 decorated with a floral border in penwork and a central painted picture of flowers and fruit. The introduction of a narrow flap at the back part of the top which opened to reveal the pen and inkwell section was in the late 18th century. |
| | |
| --- | --- |
| | Regency rosewood writing box with brass inlay to the top and front depicting stylized flora, and countersunk brass carrying handles to the sides. The box opens to a sloping writing surface still retaining is original gold embossed leather framed with a cross-banding of tulipwood. There are compartments for holding paper under the writing surfaces. There are compartments for pens and inkwells. The inkwells are reproduction. Circa 1825. |